While we are working on the next big update I wanted to share with you some of our current progress. In particular a new ship. I mentioned before that my favorite ship was Orca, but now it is officially changed to ... the "Death Bringer". It has two massive energy weapons hardpoints able to equip two PDC (particle discharge cannons). It is just insane how much damage this combo can cause to enemy ships (if you can hit them that is).
Here it is!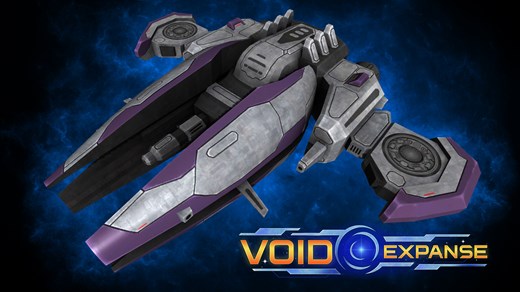 And as always here is a detailed 3D preview of the ship.
Death Bringer
Class: Heavy Cruiser.
Price: 60000 d.
Armor: Medium armor, Heavy structure.
Hardpoints:
Medium Energy (left wing)

Rotary mounted
Firing arc: 145°
Tracking: 70°/sec

Heavy Enegy x 2 (two central cannons)
Medium Energy (right wing)


Rotary mounted
Firing arc: 145°
Tracking: 70°/sec
Utility slots:
Consumables - 3
Devices - 2
Boosters - 4
Specials:
Description: The Death Bringer was one of the latest additions for the Federation forces specifically designed to carry two heavy energy hardpoints. Space constraints made it impossible to make them rotary mounted, but considering the firepower it is hardly a problem. In addition to that it boasts two tracking hardpoints for medium energy weapons together making the Death Bringer unmatched in its devastation force.