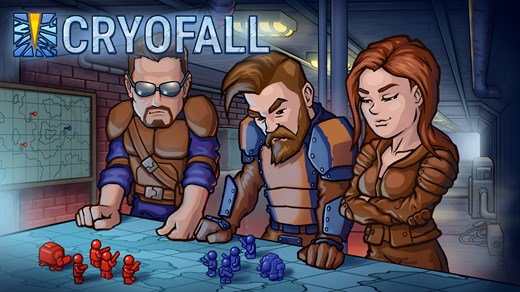 We are happy to announce that the A29 "Factions" Update is now live!
As you know, the Factions Update has been in active development and testing for quite a while now but it is finally here! It includes many important additions and slowly brings the game towards the finished state. There are still things we want to complete before the full release this year, but it's getting closer and closer to how we envisioned CryoFall to be in its finished form.
Without further ado, let's dive in and see some of the additions and changes.

The Factions System is the key feature this time. You can create your own faction (in both PvP and PvE) and invite other players to join it. Aside from the usual private factions, you can also create a public faction where anyone can join freely. Once your faction is established you can assign roles to its members allowing you to tightly manage various permissions. You can also configure your land claims and doors to ensure that only certain faction roles would have access to them. So, you don't need to worry that if you invite strangers into your faction that they might deconstruct everything and steal your possessions—just don't give them unnecessary permissions.

Another important feature is the faction Leaderboard System. Players can compete for the highest rank on the server. The game will track the progress of all faction members and derive a score for each faction. It tracks a number of various metrics measuring the faction's performance in comparison to other factions.

We didn't forget about the game world as well. This time we also made massive changes to the CryoFall map adding several completely new locations including two new boss arenas, an entire massive city in the center of the map, a northern desert area, and even a completely new hidden island which is not accessible by the usual means.
Those changes to the map tie neatly with the introduction of the new boss—Sand Tyrant! This also comes along with a bunch of new creatures and entirely new world events including a new creature migration event, a fishing event, and more.

Another thing our community has been asking for a while for PvP servers is the sentry turrets! Yes, they are finally here and can be constructed on your base to protect it from intruders while you are away. Though, if you are going offline for a while you can still use our existing S.H.I.E.L.D. system which makes it possible to go offline with peace of mind that your base will be safe while you are not playing.

If you are more inclined towards creative play there are plenty of new things here too. You can grow new plants such as potatoes and flowers and cook entirely new dishes.

There are also lots of new decorations for your bases, including interactive objects like doorbells or TV (which you can switch on).

Network of alien teleports will now make it possible for you to fast travel around the map, which is especially important as the map keeps growing with new areas with each update. You can also transport your vehicles this way.
This should make many of the world events more accessible as well as allowing all players to reach other biomes quicker. Not to mention—it is a great way to explore the world as each new teleport location you discover will be added to your transportation network.

Some other key additions and changes this time
lots of new items, crafting recipes, food, plants, fish, technologies, status effects, etc.
significant changes to UI and overall presentation of the game
new customization options for your characters including entirely new faces
new wall type (fence) which you can shoot through (unlocked in T3)
new quests and changes to existing quests to make them more interesting
many performance and QoL improvements all around
major improvements and performance optimizations for CryoFall Editor to help you create your own worlds and experiment with any ideas!
lots of new steam achievements!
Official servers wipe
This time all of the official servers (both PvP and PvE) are wiped as A29 is a massive update that introduces breaking changes into the game. We welcome you to join all the newly started servers with the fresh economy and all of the new stuff introduced by the update!
Legacy support
As usual, we make a legacy branch for the previous (A28) version client available if you intend to keep using it on a community or a private server. Just open game properties in the Steam Client, navigate to the BETAS tab, and select the "legacy-a28" branch.
Patch notes
Want to know more about the update? You can find detailed patch notes on our forums.
Community
Don't forget to join our Discord server to be aware of all the news and updates. We post a lot of upcoming content, features, and other interesting things there regularly and you can chat with us directly if you have any feedback: https://discordapp.com/invite/cryofall
That's it for now! See you in the game!