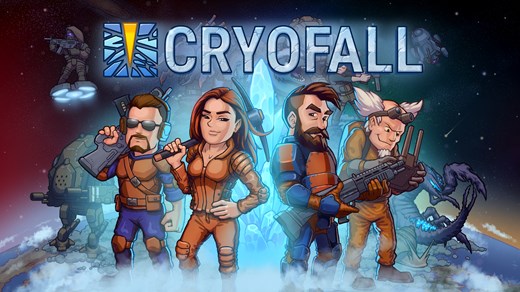 Survey
With the successful CryoFall release on Steam, we've received a tremendous amount of players' feedback in various areas of the game! Based on that we've prepared a formal survey that will help us better put it all together and define where we want to take the game in the future.
We want to make sure that we understand what's most important from the players' perspective so we can assign priorities and deliver the most requested improvements first.
Please follow this link to participate in the survey:
https://forms.gle/2jnk7qo8pPynDozF6 (available only in English)
The survey should only take a few minutes to complete. We are using Google Forms, so please note that you need to have a Google account as this is the only way we can ensure that the form will not be spammed and we will have valid replies.
Roadmap
We've updated the public roadmap to include our short-term plans and expand the number of ideas that we're considering to include in the future updates. Please vote for features that you wish to see the most!
https://trello.com/b/B5ckffAW/cryofall-development-roadmap
Official PvP servers wipe
As you may know, all official PvP servers have regular wipes to ensure a level playing field and offer a fresh economy with each new round. It's a major event that brings a lot of players to compete with each other, starting from a common point.
We would like to remind you that all the official PvP servers have a scheduled wipe this week—Thursday, May 27th. Usually, the wipe happens on Fridays, but this time we know a lot of players are eagerly awaiting this wipe, so it will happen one day earlier!
Additionally, official PvP servers' wipe interval will be changed to every 3 weeks (previously it was 4 weeks). With this wipe, we will also deploy experimental rebalancing changes through server rates adjustment to make it a more balanced experience where you don't need to spend as much time gathering resources to craft your equipment and build sturdy walls while also reducing the risk of getting raided by bombs (their damage will be decreased though it will be easier to craft them due to higher resource rates). These changes will provide more dynamic gameplay.
Wipe time: 1 PM by GMT/UTC time (as usual).
For your convenience, here is the local time in the primary time zones we have:
• 8 AM by Central US (CDT, GMT-5 summer time)
• 3 PM by Central EU (CET, GMT+2 summer time)
• 16:00 by Russia/Moscow (GMT+3)
• 21:00 by China/Beijing (GMT+8)
• 10 AM by Argentina/Brazil (GMT-3)
• 10 PM by Japan and South Korea (GMT+9)
Important note: Official Asia 1 PvP and Asia 2 PvP servers will be united after the wipe in favor of a single Asia PvP server. This way we expect a larger population on a single server in this region which should offer a more exciting experience rather than having two servers with smaller populations on each. Also, we're happy to announce that we have deployed a new Anti-DDoS solution and expect that Asia servers can withstand any attacks smoothly.
CryoSmall & CryoFive wipe
As an additional note, a popular PvP community server CryoFive NA wiped last Saturday. CryoSmall NA and CryoFive Europe will have a wipe this Saturday (29th May, 12 PM GMT/UTC). These featured community PvP servers offer the most balanced experience for PvP players. With a strict limit of 2 (CryoSmall) or 5 (CryoFive) players per team (no alliances permitted) and reputable administration enforcing this rule, you can have peace of mind that the server provides equal opportunities for everyone to compete. Join CryoSmall Discord to read further details!
Don't forget to join our Official Discord server to be aware of all the news and updates. We post a lot of upcoming content, features, and other interesting things there regularly and you can chat with us directly if you have any feedback: https://discordapp.com/invite/cryofall
That's it for now! See you in the game!