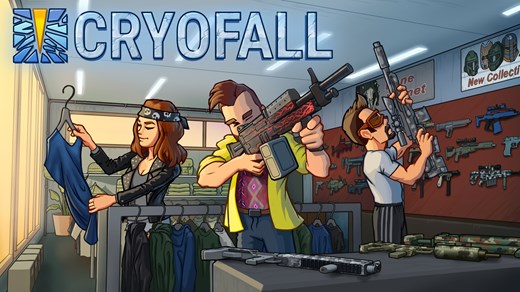 First of all, we wish you a Happy New Year!
R32 "Customizations" Update is available now. This time we've introduced support for additional cosmetical customizations in the form of skins. When you craft almost any weapon or a piece of equipment you will be able to select one of several skins available for each. The skins don't affect anything except the appearance of the equipment.

This update offers both free skins obtained simply by playing the game, as well as some limited skins which you can unlock by participating in some events we might hold in the future or by playing the game during a particular period (we will announce when any such things will be happening), and obviously, there is a number of skins which can be purchased directly. Purchasing skins goes toward supporting the developers. Thank you!
Also, the good part is—to use skins you don't have to own them. You can exchange skinned items with other players or your friends freely. You can also loot them in PvP from defeated enemies. So, you can use all skins even if you haven't yet unlocked them or if you missed an event where a particular skin was made available.

Anyway, we are looking forward to seeing more visual variety in the game with this update! All without cluttering the tech tree with almost-identical items like was before this update. By the way, we have also updated visuals for practically all equipment and weapons to make them look even better.
Aside from the system explained above with this update we have also added a few pieces of content into the game as well as some new features. But the biggest change is our continued work on balance to make the game feel even more fun, be it solo or playing in multiplayer (you'll find a link to the detailed patch notes down below).
Savegames compatibility
The saved games are completely compatible with the previous (R31) version of the game. You can continue playing in your local worlds without worries.
Official servers wipe
All the official servers were wiped with this update according to their schedule: Official PvP servers are wiping every 3 weeks and official PvE servers are wiping every 6 weeks. Please read the previous announcement for more details. We welcome you to join all the newly started servers with the fresh economy and all of the new stuff introduced by the update!
Legacy support
Even though the R32 update is 100% compatible with the previous R31 version, as usual, we're providing a legacy branch for the previous version client available if you intend to keep using it on a server that is not yet updated to R32. Just open game properties in the Steam Client, navigate to the BETAS tab, and select the "legacy-r31" branch.
Patch notes
Want to know more about the update? You can find detailed patch notes on our forums https://forums.atomictorch.com/index.php?topic=2051
Community
Don't forget to join our Discord server to be aware of all the news and updates. We post a lot of upcoming content, features, and other interesting things there regularly and you can chat with us directly if you have any feedback: https://discordapp.com/invite/cryofall
New Year event
During the New Year event, you can craft a cloth hat with the free Santa hat skin! Just open the crafting menu on a workbench and select the cloth hat, you will find this skin available there. Hurry up as after a few days the skin will be gone until the holidays season next year!
Happy New Year!