Greetings friends!
Sorry for no updates last week! But today we'd like to finally share some details on our skills system that we've mentioned in our last dev. blog entry.
Anyway, let's take a look at what we have!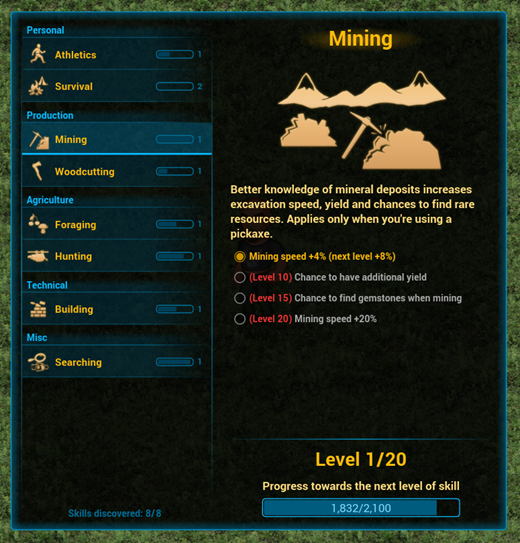 On the picture above you can see that there are two main parts to the Skills menu - the one on the left shows all of your currently discovered skills as well as their level progress, and the one on the right shows all the detailed info on a currently selected skill and its possible effects.
"Wait, what's a skill discovery?" - you might ask. That's a very cool feature we've been working on - it will add a lot of fun in the game. See for yourself: just like in real life, skills are learned - it means that you will have to do something related to, say, mining in order to actually acquire the skill. As soon as you get enough experience in doing something, the skill will appear in the Skills menu and you'll be able to track its progress. This will also help new players as they won't be overwhelmed by dozens of skills at once. Instead, they will be discovering new skills as they play. It should give a good incentive to explore and try new things in the game.
And yes, the more you engage in certain activities, the better your character gets at it - in addition to the level bonuses every few levels each skill also gives you a special perk with a unique effect. It might be a yield-increasing perk or a special perk adding a chance to drop something rare, like a gem while mining and so on.
Obviously the list of skills you see above isn't exhaustive, we plan to add at least a dozen more as we add more features into the game. For example, currently we are working on farming mechanics. That feature will get its own skill as well.
What's even cooler about the skill system - it's totally expandable and moddable, same as everything else in the game! The players will be able to easily add their own skills with any custom effects.
We hope that you'll like this system as much as we do!
And as always, make sure to visit our forums or leave your impression in the comments!