The update is finally here and with a lot more stuff than we initially planned! Here goes.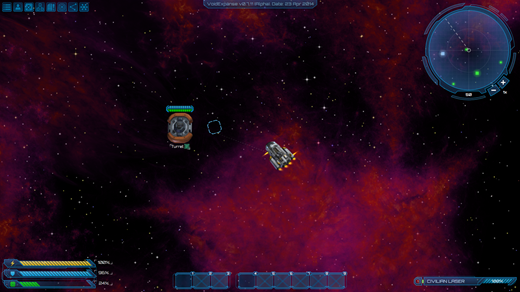 ( Random screenshot to grab your attention :-P )
New stuff:
New hint system. If you are doing something wrong the game will tell you. For example trying to equip an item in a wrong slot will show you a hint on what you are doing wrong.
Ability to ask for fuel from other friendly ships in space.
See contents of the asteroids skill if finally implemented. So, if you are a miner it will really come in handy!
Added "show on map" feature and ability to cancel quests.
All stars now do radiation damage to the neighboring ships.
Implemented skill: bonus to quest reward.
When near JumpGate it indicates where it leads.
Item comparison window.
Added button to quit to the main menu from the character creation screen.
Added faction icon near ship names (if the pilot belongs to any faction at all).
Changes:
New mining system. The main idea is that now you will actually get some good money for mining, but much less experience compared to before.
New experience system. We changed the amount of exp you get from killing pirates depending on their level as well as how much exp you need to level up.
Rebalanced the freighter hull. It is now somewhat weaker in combat.
Extended name generation for star system names.
Rebalanced the game start. It is a little bit easier now.
Galaxy map now reports actual asteroid density in different systems.
Added energy usage for all weapon types upon each particular shot, not just recharge. So, now all weapons use energy. We are still balancing the system so we would really appreciate your feedback on the forums.
Fixes:
Finally fixed multiplayer (lags, hangs, "lose of control")! And this time it really does work! :)
Fixed disappearing items icons (finally!).
Fixes to some quests, e.g. now they properly put markers, in the correct category and contain less grammatical mistakes ;)
Fixed collision box for science station.
Fixed docking zones for all stations. No more going through walls.
Fixed "Spiral docking" issues.
Fixed merchant Ships being stuck on certain stations.
Fixed "if game path contains Unicode symbols, NoesisGUI does not works".
Fixed random lags in game.
Fixed camera jumping after death/jumpgate.
And a whole lot of other small fixes!

As always we welcome you to join the discussion on the forums!
And more importantly - join us in multiplayer. We really want to see big battles going! Join in and show your skill!
PS - Due to a lot of new stuff added to the game unfortunately the savegames from the previous version is not compatible with this one... sorry.