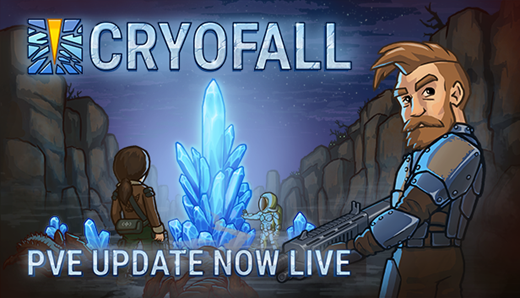 It is finally time for the A22 "PvE Update" to go live!
This update introduces the last remaining basic feature that we wanted to see in the game before we can start working on content updates again: a separate PvE game mode!
With this update online, all servers are now separated into PvP and PvE, allowing everyone to choose the type of gameplay they want to see. Either classical high stakes competitive PvP, or this new relaxed and creative PvE. Community server operators can also make this choice and launch their servers in either mode.
Obviously, even in PvE (player versus environment) game mode you can still expect challenges, not from players in this case, but from many different creatures inhabiting the world of CryoFall.
But let's take a look at what is actually new in this update.
Introduction of separate PvE servers makes it possible for us to finally improve the balance for PvP servers based on many requests from our community and make it more rewarding for both: defending and attacking players. Some major changes include significantly increased bomb damage and unlocked chests (to prevent a complete base wipeout during a raid), but to counterbalance it certain features are made much cheaper, such as land claim upgrades or repair of different structures. We are also considering to introduce a so called "raiding window", which could potentially help prevent offline raiding and ensure that most engagements happen when players are actually online. However, given that this feature is highly experimental we are planning to run polls for each of the official servers first, where you—the players—will be able to decide whether you want to see it enabled and how. We don't want to force any such changes on you. If we see overwhelming support for this feature and there will be a reasonable consensus on the actual time for the raid window then we will enable it for a particular server. Community server owners are also free to configure the raiding hours as they wish or even disable the feature altogether.
If you have any feedback regarding these recent changes or if you just want to get involved in the community directly - please don't hesitate to join our Discord server.
Another big addition is the support for Chinese languages, with Traditional and Simplified both available. We will also have separate servers available for Chinese regions! This should help us expand the number of active players in the community. We welcome everyone to join!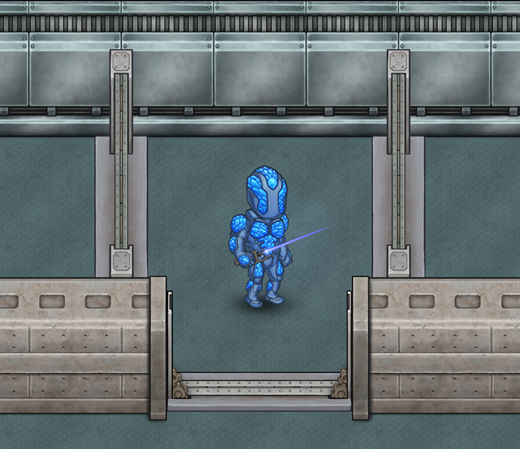 There are also some content additions such as next tier of land claim building, armored walls, hunter's tools, new helmet with a lamp available very early in the game, large cistern to store liquids, new quests, couple of new decorations and more. While the content wasn't our focus for this update we were still able to include a few additions which should make it more interesting. But the real content update will come with next A23 version, when we introduce the Electricity System and dozens of new structures, items and mechanics into the game! So stay tuned!
This update also features dozens if not hundreds of small improvements and additions such as removing ALL empty technology nodes to help and speed up the progression in the game, improved server browser with detailed server tags and their descriptions (official, featured, PvP, PvE, modded, etc.), improved chat and social features, improved resource contesting mechanics with active timer, many balancing changes to items, weapons and ammo, new recipes such as pharmaceutical chemicals in T4 and much, much more.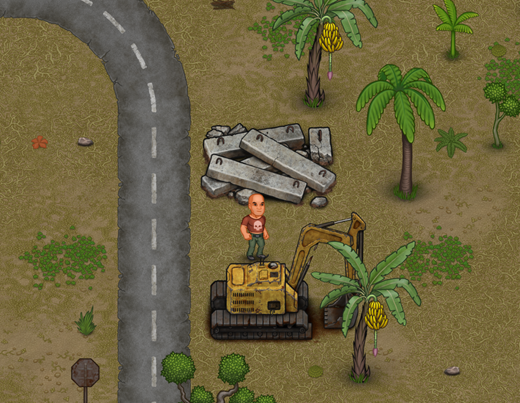 The Map was also slightly changed for this update, expanding the western tropical region a bit and adding a few small points of interest in the south. We decided not to go too far this time and instead focus on the map when new biomes (e.g. swamp, winter forest, and pragmium wasteland) will be ready in one of the following updates.
As always you can read our detailed list of changes for this version on the forums.
If you'd like to learn about differences between PvP and PvE game modes we have prepared this handy guide here.
Anyway, what are you waiting for—join the game now and enjoy a new start in a fresh economy! As always all official servers are restarted (wiped) for this update to make it possible for everyone to compete under the same rules and challenge each other!